Birkaç System Programı ** Tools
Webroot Window Washer
As you work on your computer and browse the
Internet
, you leave behind traces of your activity. This information not only takes up valuable disk space but also jeopardizes your privacy.

Window Washer simply and safely wipes your tracks clean and removes unnecessary files for complete privacy and improved
PC
performance.
Award-winning and used by privacy advocates around the globe, Window Washer:
Eliminates useless files that clog your hard drive and slow down
your PC
Permanently washes away files and folders for ultimate privacy
Gives you complete control over where and what gets washed
Extensive Wash Areas
Window Washer scrubs hundreds of areas on your PC to remove unnecessary files to ensure your privacy and free up valuable disk space.
Browser Activity Eraser
Window Washer cleans all aspects of your browser activity, including Internet history, address bar, cache, cookies, and more. Mozilla and Firefox users now enjoy the same online privacy protection that users of Internet Explorer, AOL and Netscape already enjoy.
Permanent Bleaching
Bleach, an encryption feature, completely overwrites files with random characters to make them unrecoverable. This feature is so powerful it exceeds the tough standards of the Department of Defense and the National Security Agency.
What's New in Version 6.0
Deeper cleaning power to cover even more areas of your PC
Free space cleaner to free up more of your PC's resources
Protection for more browsers including Mozilla and Firefox
Download Webroot Window Washer 6.0.2.466
================================================== ========
GetGo Download Manager 3.0
A download manager designed to maximize the efficiency of your broadband internet connection. It allows you to download much faster than default web browsers with increased reliability, resume support, and error recovery.
GetGo Download Manager 3.0 Features :
Dockable windows: re-configure the section of the GetGo window the way you want.
Interface themes: 7 new themes to choose from for your GetGo window layout. You can also setup your own color scheme for GetGo.
Tree list view with state based categorization of your downloads; now you can prioritize, sort on status, and assign user-defined categories to any download.
Image viewer: Display your downloaded images in GetGo.
Download priority: set multiple download tasks to "pending" and prioritize the downloads so that preference can be set for important downloads.
IE toolbar integration: a GetGo toolbar that is integrated in to your browser for fast and easy downloading.
Enhanced batch downloading to download a large list of files and automatically rename them using a filename pattern template.
Leech download capability: a faster and more convenient way of getting all the downloads you need from an entire web page.
Record streaming video: set up and automatically record MMS video recordings and have them play on Windows Media player.
Resume Support - Resume broken downloads (on supported servers)
Virus Check - You can configure GetGo to scan your downloads with your favourite Anti-Virus Software
NO Ads or Spyware! - Feel safe using GetGo as it contains no ads or spyware!
Bandwith Pane - Show how much bandwidth you are actively using when downloading files
Speed Enhanced - Maximize your bandwidth for an increase in download speeds of up to 300%!
Size : 2.17 MB
Download GetGo Download Manager 3.0.1.20051219
================================================== =======
Privacy Shield
Privacy Shield - protect your privacy!
The most thorough Windows cleaning software in the
world
.
Privacy Shield Features :
With one simple click, the customizable Privacy Shield can...
Clear your browser history
Delete the contents your browser cached
Remove all your system cookies
Clear out your visited and typed URL list
Get rid of the stored data in the hidden index.dat file
Eliminate all the information remaining from Autocomplete
Save space by getting rid of Windows temporary files
Remove incriminating information from documents, history, and "Find" searches
Dump out your Recycle Bin and clipboard
Clear both Outlook and Netscape E-Mail histories
Completely remove data so it can NEVER be recovered
Use Government-strength removal techniques to delete entire directories
With bonus support for clearing the histories for the following applications...
Adobe Acrobat Reader, AOL Instant Messenger, CuteFTP
Divx Player, Download Accelerator, Flash Get, GetRight
GO!ZILLA, Google Toolbar, Hotbar, ICQ, Kazaa
Windows Media Player, Morpheus, MSN Messenger
Net Vampire, NetCaptor, Office (97, 2000, XP and 2003!)
PowerDVD, Real Player, Sonique, SWiSH, The Playe,
WinRar, WinZip, Yahoo! Messenger -- and more!
You can also customize Privacy Shield to...
Automatically run at startup and shutdown
Run in stealth and be executed by secret keys
Run on demand and run on schedule
Be an icon into the system tray
Get Safe!
Just one quick run of Privacy Shield and your machine will feel brand new, something any computer tune-up shop would charge you double the purchase price for!
Size : 3.1 MB
Download Privacy Shield 3.0.18
================================================== ========
Business Card Designer Pro 3.0
Design your stunning business cards easily.
Belltech Business Card Designer Pro, a feature-rich professional quality business card software, helps you create amazing cards in a matter of minutes and print them right-away on any Windows compatible printer.
Need help on business card design idea? See some samples of business cards designed using this card creator.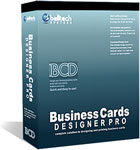 Business Card Designer Highlights:
Quick and Easy Design: Select and draw shapes and text. Resize, tilt, change color, fill with gradient color or do anything with your design elements.
Use templates and graphics: Don't know how to start the layout of your card? Use our
card templates, background and clip-arts to start with easily. Simple to use yet so powerful!
Convenient Design tools: Can draw rectangle/triangle/circle or any freehand lines and shapes.
Stunning Background: Use the supplied backgrounds or use your own. Anything is possible and is easy.
Use Color blends: This is a unique feature of this
business card software. You can now have a color blend the way you want, the control is in your hand. Remember, this is not a static background image, but a filled shape whose color-blend and texture you control completely." Possibilities are endless!
Use your own clip-arts, logo, photos: We supply you with many graphics that you can use, but don't think that it is all you can use. Get your own picture, logos, clip-art and design the perfect card you want.
Supports any printing papers: Supports all standard business card papers from Avery and other suppliers.
Choose any card size: With version 1.2 and above you can choose any size from 1 X 1 inch to 5 X 5 inch. The choice is yours. The US standard is 3.5 X 2 inch or 2 X 3.5 inch.
Customize printing: Want to print 1 card or 5 card? You decide and watch the printing!!.
Save as image: You can save your work as bmp, jpg, gif, png image and take it to your favorite print-shop to have professional printing done.
Size : 5.1 MB
Download Business Card Designer Pro 3.0
================================================== ========
ProShow Producer
Professional Slide Shows for DVD, PC and Web
A marriage of speed and creativity.
ProShow Producer is the highly anticipated professional presentation software that joins ease of use, enhanced workflow, and unmatched speed. If you've been using
ProShow Gold, we're sure you've experienced its incredible capabilities in digital slide show creation.
ProShow Producer goes beyond these capabilities to provide users with creative and timesaving features that professionals demand.
ProShow Producer Key Features :
Easily Add Content and Customize Slides
Easily drag and drop content into a show
Use photos, video clips, and music
Support for over 100 file types
RAW file support for professional grade cameras
Add multiple images and layers to any slide
Set custom timing for each slide
Easily modify many slides at once
Use transparency to overlay masks and borders
Watermark shows with a logo to protect copyrighted content
Use linear slide list or 2D light box for sorting
One-click auto-correct for your photos
Motion Effects and Transitions
Ken Burns style motion effects with pan and zoom
Over 280 quality transitions
Control timing for each transition
Pan photos, including panoramic
Zoom photos to any size
Rotate photos to any angle
Options composition lines for perfect alignment
Precise control over motion
Set start time for motion on slides
Set acceleration styles for panning
Music and Sounds
Control volume of audio
Crop and fade in and out of audio
View sound wave form of audio
Add sounds to any individual slide
Import music from any audio CD
Automatically time your slides and music
Record voice-overs
Professional Workflow
Unlimited Undo and Redo
Preview real-time as you work, full screen
Automatic show backup and recovery keeps work safe
Collect show files to any folder, CD or DVD for archiving
Fully integrated tools minimize back and forth between programs
Use templates to minimize show creation time
Manual show control for presentations
Color profile aware for each display
Superior Output
Dual layer drive and media support
Enhanced menuing for DVDs and PC playback
Highest speed, highest quality video creation
Include multiple shows on one disc or executable
Add your own custom introduction show
Set title and thumbnail for each show used in menus
Combine both TV and PC playback on one disc.
Fastest video rendering time in the industry
DVD and Video CD Authoring
Fully integrated DVD authoring
Avoid TV clipping with integrated Safe Zone previews
Output to CD in a variety of formats
Create both VCD still shows and VCD video shows
Burn multiple copies of DVDs and VCDs
Anti-flicker filtering reduces flickering of video output
Supports NTSC and PAL standards
Streaming Web Shows
Create online shows
Publish streaming shows to a website
Easily integrates into any website with little HTML
ProShow web format provides better quality than Flash
Share shows for free at Photodex.com
Video File Creation
Create standard MPEG 1, MPEG 2, and AVI video files
Control video format and rendering options
Use ProShow videos in other applications
Executables for PC Playback
Build fully self-contained slide show executables
PC executables include familiar DVD-style menus
Customizable branding on EXEs
No additional software required for playback
Protect images from copying
Auto-Play CD Creation
Create auto-play CDs
Play a show on any PC with no installation
Fully integrated creation and burning
Protect CDs to limit unauthorized copying
Size :
Download ProShow Producer 2.6.1475