Fresh XP Pro SP3 VL ?86 v2 Final Update and Hotfixes October 2010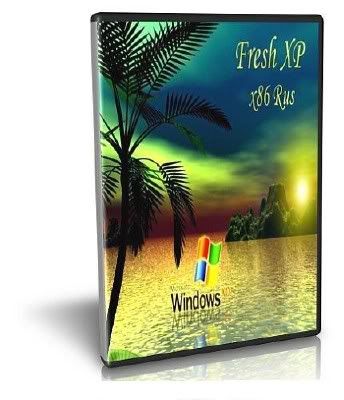 Fresh XP Pro SP3 VL ?86 v2 Final Update and Hotfixes October 2010 | 677MB
Windows Fresh XP Pro SP3 VL x86 integrated with critical updates on Oct. 10, 2010 Internet Explorer 8.0.6001.18702 Windows Media Player 11.0.5721.5268 DirectX 9.0c October 2010.
-In the distribution removed the standard game printer drivers.--Was used by the original -
-MSDN-distribution WinXP SP3 Rus Integration updates UpdatePack-XPSP3--Rus-10.7.16.
-Key sewn, the system does not require activation.
-The level of filling hard drives in Windows Vista.
-Window transparency and 3D switching between them as in Windows Vista.
-Sound Scheme Windows Vista.
-Cursors (Select from the control panel manually, if necessary).
-Screensavers.
-The new boot-skin.
-Ability to set each folder its own unique color.
-TCP / IP Patch (number of simultaneous connections) increased from 10 to 1000.
-UXTheme.dll to use third-party themes (including, without digital signature) is patched.
Change compared to previous version
* Interface Win Logon (Logon) has changed.
* Update on 10/10/1910
* Integrated with additional software for the "niceties" interface.
* New boot-skin.
System requirements:
? Computer and processor
Recommended computer processor equipped with
Intel Pentium / Celeron, AMD K6/Athlon/Duron or compatible 300 MHz or higher
(Single or dual processor system). The minimum CPU frequency - 233 MHz.
? Memory
Recommended RAM - 512 MB or more (minimum allowable
- 256 MB, there may be limited and some features)
? Hard Drive
The used space on your hard drive depending on configuration;
for custom installation may require more or less disk space
? Drive
CD drive or DVD-ROM
? Other Devices
Keyboard and mouse (Microsoft), or compatible pointing device
? Monitor resolution 800/600 or higher
Image Checksum:
CRC32: FFFFFFFF
MD5: 99DE790DF748B0F7A1E38A0C81ED51FB
SHA-1: B73DB9E8F42684CE7DBAB7EE6379726CBB4A2F7A
Year: 2010
Developer: Microsoft
Version: V2 Final
Update: on 10/10/2010
Platform: x86 (32bit)
File Format: ISO
Language: Eng / Rus
Kod:
http://www.filesonic.com/file/366566181/Fresh_Snorgared.iso.part1.rar
http://www.filesonic.com/file/366566191/Fresh_Snorgared.iso.part2.rar
http://www.filesonic.com/file/366566201/Fresh_Snorgared.iso.part3.rar