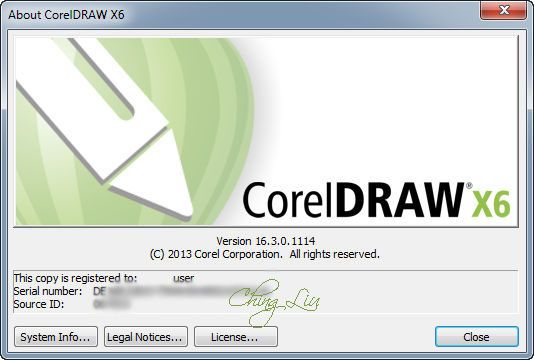 System Requirements
- Microsoft Windows 8 (64-bit) or Microsoft Windows 7 (64-bit) all with latest service packs installed
- Intel Pentium 4, AMD Athlon 64 or AMD Opteron
- 1 GB RAM (2 GB RAM on Windows 64-bit)
- 1.5 GB hard disk space (for typical installation without content, additional disk space is required during installation)
- Mouse or tablet
- 1024 x 768 screen resolution
- DVD drive
- Microsoft Internet Explorer 7 or higher
Language : English
FEATURES
Access and repurpose technical design assets
Corel® CONNECT? X6 - Speed up your workflow with Corel CONNECT, a built-in content search tool that helps you quickly find and organize graphical assets, templates, fonts and images located on your local network or online portals and websites.
* New! Multiple trays ? work with several trays concurrently and gain the flexibility to organize assets for multiple projects
* New! Search capability ? extract images instantly from a client's website by simply typing a web address in the Search box
Corel PowerTRACE® X6 - Quickly convert scanned bitmaps, such as circuit design blueprints, schematics, hand-drawn illustrations and more, into editable vector graphics with smoother curves and more accurate results.
New! 3D import with XVL Studio 3D - Generate high-quality illustrations from defined and custom 3D model views using the integrated 3D visualization module, XVL Studio 3D Corel Edition. Import DWG, 3DS, VRML and XVL files, and create technical illustrations and renderings from 3D views. New in CorelDRAW® Technical Suite X6, interactively place and scale the 3D-sourced illustration on import, eliminating the need to reposition or resize in a separate step.
New! XVL Studio 3D CAD Add-On (optional) - Open and work with the latest 3D CAD file formats, including CATIA V5, PTC Creo (formerly Pro/ENGINEER), SolidWorks, Inventor, NX, IGES, STEP, JT and more. The easy-to-use 3D visualization authoring solution lets you work with a broad range of 3D CAD systems without extensive 3D CAD training. With a full set of animation tools, you can create assembly instructions and maintenance manuals for complex assembly structures efficiently. Publish the results for online and mobile viewing, or as U3D file (for 3D PDF) to create animated instructions and other interactive technical documentation.
New! Insert 3D models with XVL Player - Use the new Insert 3D functionality in XVL Player to embed 3D models as 3D elements into your projects. You can specify views, scale and rendering mode to add context to your technical illustration. When importing vector illustrations from 3D model views, the drawing scale is maintained and imported views are placed at scale. Publish technical illustrations including a high-resolution image of the selected 3D view. With integrated XVL Studio 3D, you can also open XVL files for further editing.
Download:
??????? ???? CorelDRAWTechnicalSuiteX6Installer_EN64Bit.exe. ??????? ????????? ? ??? ??????????? ? TurboBit.net
??????? ???? keygen.exe. ??????? ????????? ? ??? ??????????? ? TurboBit.net